12.12 Christmas Sale
It is almost the end of the year! The long awaited 12.12 Christmas Sale is back with bigger and better discounts just for you. What are you waiting for? Get shopping before this sale ends!
12.12 Pre-Order
You don't have to worry about missing out on the sale. You don't even need to wait for the 12.12 sales day to come. Start your pre-order from 3/12/2021 - 11/12/2021. We will place your order for you only when 12.12 midnight sales start!
12X BPOINT
Generate and complete your parcel payment on 12 December 2021 to stand a chance to get 12X Bpoint reward.
100% OFF BUY-FOR-ME FEE
Stand a chance to get 100% off your Buy-For-Me fee when you make a Buy-For-Me order during December.
12% OFF SEA FREIGHT VOUCHER
Stand a chance to get 12% off SEA FREIGHT shipping voucher (capped at RM12) when you spend more than RM50 on your Shipping Fee during December.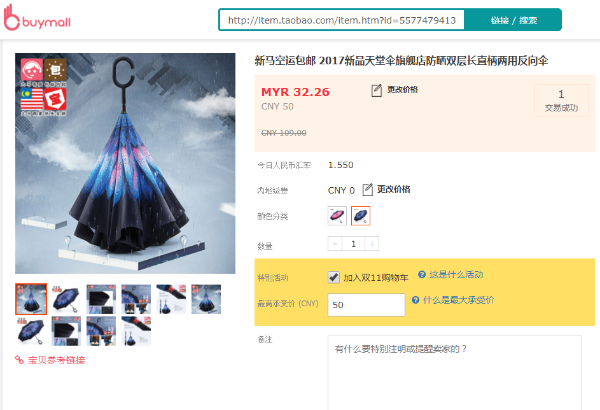 All orders should be submit and pay into the 12.12 shopping cart before 10pm on 11th December.
Check the box of Add to 12.12 shopping cart (Yellow part of the picture on the left)
Decide your "Max. Price" What is Max. Price
Click "Add to Cart", make payment then sit back and relax!
- Minimum unit price per item is MYR 25
- Ordering duration: 12am-3am & 10am-3pm
- Orders will be canceled without prior notice if (1) Max. Price is LOWER than final price of item or (2) Ordering info is not complete
- Orders will be handled on a first come, first serve basis. Orders submit and pay on 12.12 might not be handled within 12.12, but we will continue the ordering the following working day.
How to use BuyMall?
Shopping

Having trouble to place an order in China? How to pay in TWD? No sweat! Leave it to our Buy-For-Me. Now you can send your merchandise to our China warehouse by our Ship-For-Me.

Shipment

You will receive an email notification once the item arrives at the BuyMall warehouse. After a certain amount has been accumulated, you may package the shipment by requesting it in the system, and we will pack it according to your list.

Anticipation

Finally, BuyMall will safely deliver your parcels into your hands at the fastest speed possible through BuyMall's excellent air and sea freight services based on your shipping options.
Why choose BuyMall?
Same day ordering
No worries about the international currency issues. All orders will be processed and placed within 1 working day
Free storage
Free storage for up to 45 days, accumulate a certain volume and quantity of items, pack them to send out together would be more cost-effective
Price Advantage
With our direct flights and daily container loads, we are able to provide a speedy yet affordable service.
Professionalism
In BuyMall, we believe in providing the best service with our professional team, your hassle-free shopping experience is our utmost priority.
BuyMall China Transport
China Air Freight

Method

First 1 kg

Subsequent 1 kg

Pickup Point

MYR 15
From MYR 7.50/0.5kg

Door-to-Door

MYR 19
From MYR 8.00/0.5kg
China Sea Freight

Method

Price

Pickup Point

From MYR 3.00 / kg

Door-to-Door

First 5kg: MYR 25.00
Subsequent kg: MYR 4.00 /kg
Please click here
to know details
199875

users trust BuyMall for their overseas purchase
Superb customer service team! Very quick in replying my questions through live chat! Now they even have a message board, I can just drop my questions there and will get a reply in a few hours or next day. Thank you Buymall customer service team, you guys are great!

Never have I encountered a logistics company who would compensate full in the case of lost items. There was once, a chair I purchased was lost during transshipment, after 2 weeks of investigation, they really compensate me in full! Thank you Buymall, I will continue to support you!

Buymall sea service surpasses 18 days, I even get compensation, one of my shipment arrives 25 days and I get RM 7 compensation right away! It's already 25% of my shipment fee, wonder if they lose money on this. Anyways, I hope Buymall can keep up the good work they have been doing.

Buymall finally got their own apps, it's super convenient! Few years back they only have desktop version and it's not very convenient, now they have their own app and a mobile friendly version of their webpage, super nice! Looking forward to more surprise Buymall brings!

I was introduced by a friend to use Buymall, and everyone I introduce to Buymall, I will also get rewards. I have been using Buymall for 2 years now and they are introducing more and more service, but the quality remains! I am already at Helmsman level now, will get rebate every time I use their service, buy more save more!

The biggest problem I face with e-commerce is that no one will be at home during working hours. So, I always have to go to Poslaju to get my parcels. That is why Buymall pickup service is perfect for me! I can always have it send to a point near my work place and go pick it up after work! What's more? The fee for pickup is about 50% cheaper compared to having the parcels sent to home!