What is 【Taobao Cashback】?
【Taobao Cashback】a new service that is launched in year 2019 by BuyMall. Through this service, you are able to earn additional cash by just clicking on the cashback link generated by BuyMall. Cashback are up to 50% of your total order value!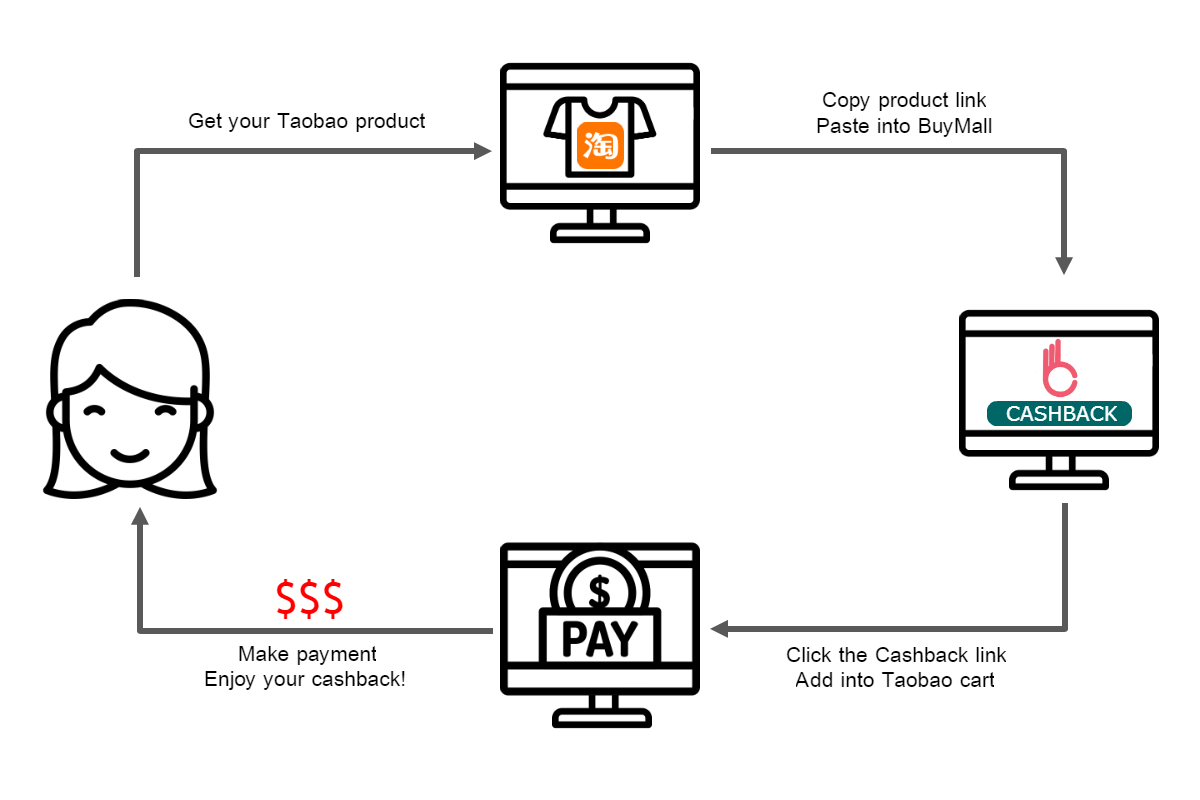 WHY 【Taobao Cashback】?
1. Cashback in ONE Click!
You see it right, it's just ONE CLICK! Copy the link of the Taobao item you want to buy, paste it on BuyMall, click the cashback link we generated and you are all good! Absolutely hassle-free cashback system compared to your existing cashback service provider!
2. Get your money FAST!
If you are familiar with other cashback provider in the market, your cashback is only available to you after 75-90 days! Here at BuyMall, it's ONLY 25-60 days! Get your cash QUICK!
3. Earn 10x B-Points!
YES! Besides than the normal cashback, you are getting 10x
B-Points
as well! For every RM1 cashback, you'll get an additional 10 B-Points! B-Points can be used to redeem shipping vouchers at our redeem center!
How to 【Taobao Cashback】?
1. Desktop Version
Please follow the steps below to enjoy cashback if you shop Taobao via desktop
Step:
2. Open Chrome browser and visit:
www.taobao.com
and you will be requested to login your BuyMall account
3. Once login you may start shopping! On each product page, BuyMall Chrome Extension will auto detect if the product is eligible for cashback
4. If it is eligible for cashback, you will get a message as below: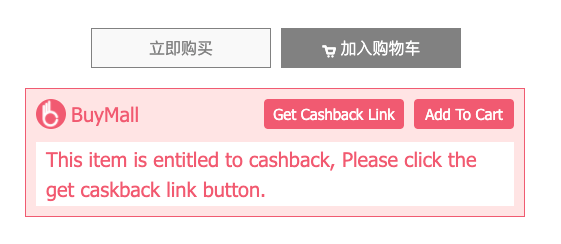 5. After clicking the "Get Cashback Link" and "you must click here to enjoy cashback", it will display as shown below:

6. Click the "Click To Get Cashback Link", then add the item into TAOBAO cart & make your payment. You may then enjoy your Cashback.
2. Mobile Version
Please follow the steps below to enjoy cashback if you shop Taobao via mobile
Step:
1. Copy the Taobao Product link you wish to buy and paste the link onto【
Taobao Cashback
】 & click on 【Get Cashback Link】
2. Click the link and proceed to buy your product on Taobao within 【48-Hours】!
Note I: If you did not manage to purchase the item within 48 hours, you would have to re-generate another cashback link.
Note II: In order for us to track your purchase and cashback, please make sure to use the SAME device throughout the whole process.
Note III: If you have multiple products eligible for cashback, you may generate and click on all the links and make payment for all of them altogether.
3. Sit back, relax, and cashback! Your cashback should show up HERE in 【
Taobao Cashback
】 within 24 hours!
Note: If your cashback did not show up after 24 hours, please click 【+ Add Order Manually】 and enter your Taobao order ID. If it still fails, please consult our customer service.
Cashback Confirmation
The initial status of your cashback order will be 【Pending】, meaning that this order is awaiting confirmation from Taobao.

Once you click 【Receive Confirmation】 on Taobao, BuyMall will query the result from Taobao on every Sunday. The status will be changed to 【Awaiting Settlement】 upon success.
Note: In other words, you need to wait couple days before the status will be updated even if you have click 【Receive Confirmation】.
Cashback Settlement
All cashback will be settled on every 25th of the month and will be credited directly into your
BuyMall Wallet
.
Eg: All 【Awaiting Settlement】 cashback orders between 1/1 – 31/1 will be settled on 25/2 into your BuyMall Wallet.
Is Buy-For-Me entitled to cashback?
Though we would like to provide all users with the same cashback, but we have been warned by Alimama (An organization under Alibaba in-charging of Affiliates) that Buy-For-Me service would not be entitled for cashback. If you would like to learn more about their rules,
you may read it HERE
.
Hence, regretfully, Buy-For-Me would not be entitled to cashback at the moment.(Updated on 22/2/2019)
I am not a BuyMall user, am I entitled to BuyMall cashback?
YES! You are more than welcome to use our cashback system even if you do not use any of our service!

Note: There is a 3% transaction charge for any withdrawal of cash from BuyMall Wallet..