BuyMall Furniture Installation Service
We heard you! After 3 months of testing, BuyMall is excited to announce that our Furniture Installation Service is here! Buy or Ship your furniture though us to enjoy this service!

Currently, the Installation Service covers Klang Valley area only, but fred not, we will be expanding the service coverage soon! Installation Service is limited to furniture on TMALL, including office furniture, side tables, TV cabinet, shoe racks and more. Please note that we do not provide wall mounting service.
How to use?
Click here to request for a quotation. Fill in the product link, size and type, and submit. We will provide a service quotation within 1 business day.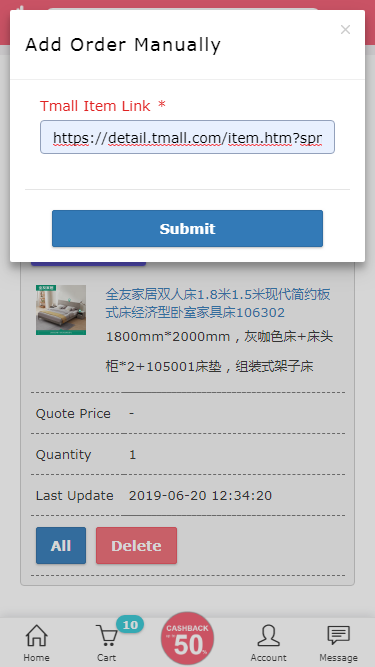 Each quotation is tie to a 【Quote ID】 as a reference.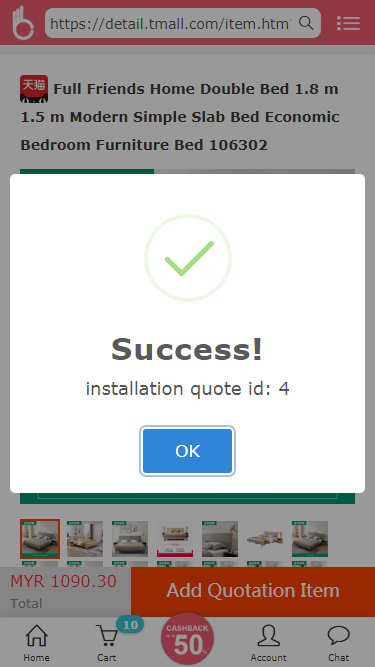 Option to opt for installation will be made during parcels creation. Select the 【Quote ID】that you wish to install, and pay together with the shipping fee.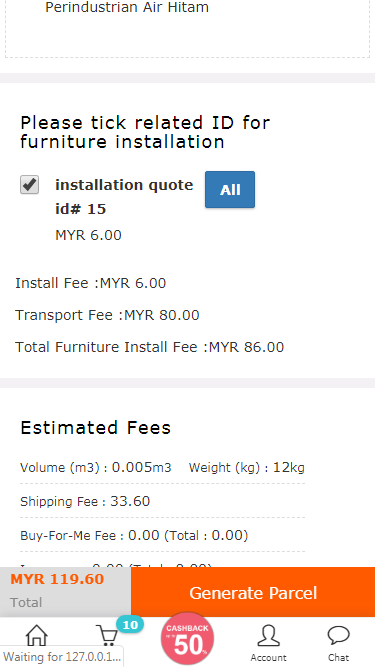 You can schedule your installation time after confirming that you have received ALL your items by click 【Received】 in our webpage.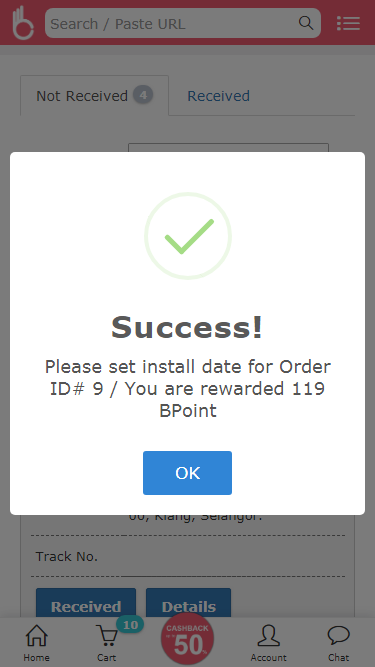 b. Select the booking date and time, our team will confirm your booking or contact you in the case of full booking.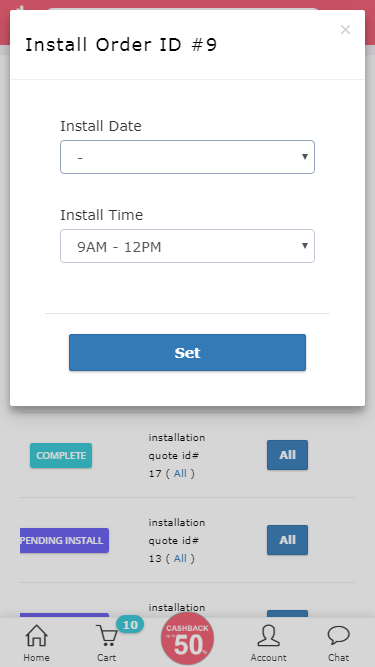 Our installation team will install your orders according to your booking date and time.
Once installation is completed, check on the furniture and sign on the install order note given by our installation team.
Installation Service Fee
BuyMall Installation Service Fee consists of 2 parts: (1) Installation Fee (2) Call-out Charges. Installation Fee is charged based on furniture type and Crew Charges is charged based on area. Both charges will be quoted and shown in the quotation.
Installation Fee
Office Table
MYR15 - MYR80
Meeting Table
MYR80 - MYR150
Computer Chair
MYR15 - MYR40
Book Shelf
MYR20 - MYR100
Dining Table
MYR50 - MYR200
Call-out Charges
Banting, Telok Panglima Garang, Jenjarom
MYR60
Bangi, Batang Berjuntai, Batang Kali
MYR60
Kajang, Seminyih, Sepang
MYR60
Please enter postcode to check on call-out charges
Additional Charges (if applicable)

Failed Attempt
In an event that failed installation is caused by users (eg: Not at home, incomplete parts, broken parts, etc), only installation fee is refundable, call-out charges is NOT refundable

Second Attempt
In an event that requires second installation attempt, additional call-out charges will be charged

Dismantle Fee
Dismantle or disposal of old furniture will be charged accordingly
Important Notes
Before the installation team arrives, please make sure that:

Furniture to-be-installed is not damaged

Parts received are completed

An area is made available for installation team to perform installation

Prepare ladder if necessary

You or authorized representative is at home

Screw, glue are getting ready
Terms and Conditions
Only furniture that were bought or shipped through BuyMall is entitled to BuyMall Furniture Installation Service.
Please make sure that the furniture details and quantity is correctly submitted for quotation. In the event that the submitted quotation and the actual furniture is not the same, our team reserves the right to not install or adjust the installation fee accordingly.
Select the correct Quote ID when creating shipment parcel, failure to do so will result in a failed attempt of installation.
Please confirm that all parts and furniture has arrived before making a booking to avoid having a failed attempt or second attempt on the installation order.
Please make sure that the furniture is not broken or has quality issues. Our team has the right to cancel the installation order in such event.
Once booking is confirmed, call-out charges will not be refundable.
Please check and confirmed the installation once the service is completed. Complains received 24 hours after the service completion will not be processed.
In the even that of additional furniture needed to be installed on the booking day, users may communicate with BuyMall installation team on the additional installation fee. The additional installation fee must be paid in full in the terms of cash or online banking. Users will be asked to sign off on the additional installation service requested.